Private dance lessons are all about you.
Perhaps you've always had an interest in dance, but you've been too nervous to dance in public. One of the best ways to get into the art of dance is by signing up for private lessons. Doing so can help you discover your passion for dance, whether you want to practice socially or eventually perform for an audience.
Private dance lessons are all about you. We personalize each dance lesson based on your individual needs, desires, and goals, adjusting our teaching style to your ability, personality, and expectations.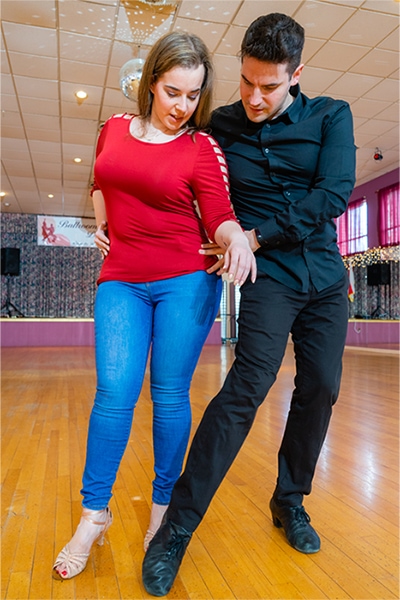 Private lessons are, quite possibly, the most important step in becoming a proficient dancer. Your instructor will provide you with the personalized attention you need and direct 100% of their attention to you. You will progress at your own pace, and focus on as many or as few dances as you wish.
We accommodate each student's schedule and create a custom tuition plan that makes each personal goal affordable. We offer Private lessons for adults as well as kids. Have no partner? No problem. Private lessons may be taken with or without a partner, and are often recommended to supplement group lesson instruction.
Private lessons are great way for beginners to get started, seasoned dancers to take their skills to the next level, or couples to have an intimate moment with their own dance guide.
Private instruction is recommended for couples interested in social dancing, preparing for their wedding "first dance", as well as anyone wishing to participate in showcases and competitions.
Benefits of Private Dance Lessons:
Personalized attention
Scheduled at your convenience
Fastest way to learn and progress