We offer Competitive Programs for both kids & adults.
Want to compete at DanceSport competitions, but don't have a partner? No problem. Pro-Am may be the perfect option for you.
Pro-Am is a category in DanceSport where an amateur student partner with a professional dancer, similar to what you see on "Dancing With The Stars." In these events only the amateur is being judged, leaving the professional free to concentrate on helping you look and dance your best! There are various age classifications and level divisions available, allowing professionals to dance with all their students, and to ensure you compete against other dancers of similar skill. Every dance style is available, so you can choose the dances you want to compete in.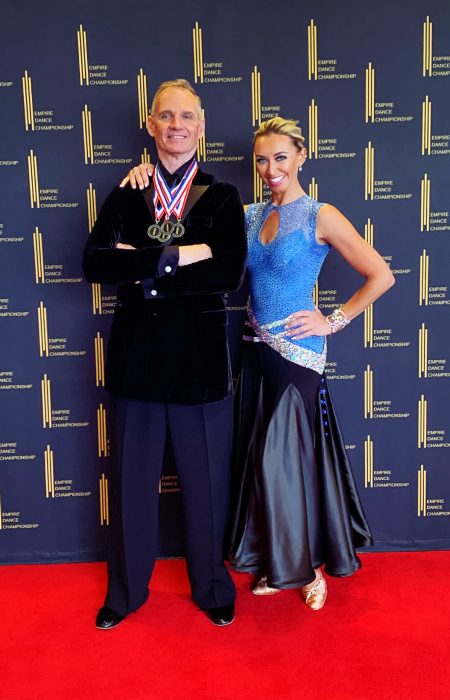 Each competition has slightly different age division breakdowns, and it is often possible to compete in several age categories. Pro-Am age categories usually are:
Pre-Teen: 11 & younger
Junior: 12-15
Youth/A1: 16-30
A2: 31-40
A3: 41-50
B1: 51-60
B2: 61-70
C1: 71-80
C2: 81+
Pro-Am competitors choose which style(s) of dance they compete in. They may compete in 1, or several styles of dance. There are four major dance divisions:
American Rhythm (Cha-Cha, Rumba, East Coast Swing, Bolero & Mambo)
American Smooth (Waltz, Tango, Foxtrot & Viennese Waltz)
International Standard (Waltz, Tango, Viennese Waltz, Foxtrot & Quickstep)
International Latin (Cha-Cha, Samba, Rumba, Pasodoble & Jive)
Competitions are usually divided by 'syllabus,' meaning competitors are restricted to specific steps appropriate for their level. Your instructor will teach you competition choreography in advance, to prepare you for your competition.
Newcomer
Pre-Bronze
Intermediate Bronze
Full Bronze
Open Bronze
Pre-Silver
Intermediate Silver


Full Silver
Open Silver
Pre-Gold
Intermediate Gold
Full Gold
Open Gold
Open Gold Star
In solo competition, you and your instructor are the only couple on the floor. Judges usually give you individual feedback, and mark you on a scale of 1-100. Solos are great for those who have a particular song they love dancing to, or if you would like the judges individual feedback which you cannot get in regular competitions. Solos are limited to 2 minutes and 45 seconds, but choreography is unrestricted allowing for maximum artistic expression and showmanship. Solo events are exciting and often highly competitive.
Competitive Ballroom Dancing is the perfect combination of art and sport. It is regarded in Europe and Asia as one of the highest honors in sports, and is gaining momentum in the United States. The thrill of DanceSport competitions is the fastest way to improve your dancing skills.